(L-R) Award-winning songwriters Roger Murrah, David Lee Murphy, Keith Stegall, and Rafe Van Hoy performing at last Thursday's fundraiser. Photography credit: Friends of Franklin Parks.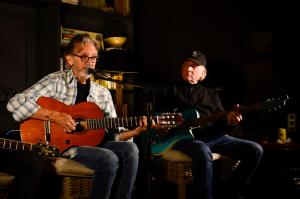 (L-R) – Keith Stegall performing with Rafe Van Hoy. Photography credit: Friends of Franklin Parks.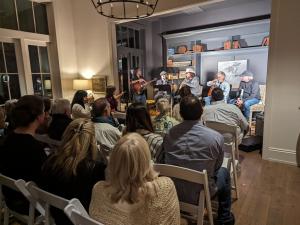 Audience members listening at the Friends of Franklin Parks event. Photography credit PLA Media.
NASHVILLE, TENN. , UNITED STATES, November 6, 2023 /EINPresswire.com/ — On Oct. 19, 2023, four hit songwriters took the stage for a Friends of Franklin Parks Fundraiser and dazzled the crowd. The performers included multiple Grammy, CMA and ACM award-winning producer Keith Stegall (Zac Brown Band, Alan Jackson and Randy Travis), Nashville Songwriter Hall of Fame members Roger Murrah (Steve Wariner, Alan Jackson and Tanya Tucker), Rafe Van Hoy (George Jones, Patty Loveless and Tanya Tucker) and David Lee Murphy (Kenny Chesney, Brad Paisley and Hank Williams Jr.).
The intimate gathering was hosted by Roger Murrah and was unique as each songwriter performed and shared the stories behind some of their hit songs. During this intimate experience for audience members, the four songwriters performed 16 total songs for the enthralled crowd, making this a one-of-a-kind event. The crowd laughed and cried as the group regaled them with the inside hijinks and tribulations behind many of music's greatest hits.
The showcase was a silent auction event as part of the Friends of Franklin Parks "Raise the Roof" fundraiser. Proceeds from the event will help fund many of the organization's projects, including the restoration of The Historic Hayes House, fundraising for Franklin's first inclusive playground (Ellie G's Dream World) and The Fund for The Preservation of Open Spaces.
While reflecting on the fundraiser, Friends of Franklin Parks' Executive Director, Torrey Barnhill, said, "What a special evening to remember! We are so grateful that these gracious, award-winning writers would share their time and talent to raise much needed funds for our numerous Franklin park projects."
Follow Keith Stegall Online:

Website – http://keithstegall.com

Instagram – https://www.instagram.com/dreamlined_entertainment

Facebook – https://www.facebook.com/DreamlinedEntertainmentGroup

LinkTr.ee – @DreamlinedEntertainment

Spotify – Keith Stegall

Apple Music – Keith Stegall
About Dreamlined Entertainment Group

In 2015, Stegall launched Dreamlined Entertainment, a company specializing in artist development and record label services. Currently, he is working on a new project with Alan Jackson, as well as up and coming talented artists including William Michael Morgan, Bradley Gaskin and Makayla Lynn. Keith Stegall has the exact same passion as he always has, he keeps right on painting outside the lines to bring country fans, radio, and artists some of the greatest music they've ever experienced.
Visit https://dreamlinedentertainment.com for more information.
Becky Parsons
PLA Media
+1 615-327-0100
[email protected]


Originally published at https://www.einpresswire.com/article/665467509/dreamlined-entertainment-group-s-keith-stegall-helps-raise-thousands-for-friends-of-franklin-parks